Mediumcube provides website design & development services. Our team produces top quality mobile friendly websites based upon the WordPress platform. If you're considering a new mobile friendly website or you want to make an existing website mobile friendly, Mediumcube is ready to assist. We offer website services including Website Design, Website Development, Cloud Hosting and SEO Marketing.
Website design services provided by Mediumcube are the first step in the process of building a new website or upgrading an existing one.
The Elements of Website Design Services
There are many elements to website design services. All play a role in creating a great website design.
What does the website look like? (a.k.a "UI")
What is the user's experience while using the websites? (a.k.a. "UX")
What is the website's purpose?
Who is the website's audience?
What functionality does the audience need/expect?
If your organization already has a style guide or mood board, sharing that with us would be a great place to start the web design process. If not, we have a couple of links you should check out:
Flat Design vs Material Design – flat design replaced skeuomorphic design as the hot trend a couple of years ago. Material design is now taking over from flat design in the most trendy agencies. We still like flat design and would likely steer you that way if we could, but we're open to designing you a site that you love to look at and want to share with your customers, vendors, investors, etc.
Website Design Questions – these are the types of questions we're going to want to review with you at the very beginning of any website design project that we embark on together.
Mobile Ready Website Design
One final area we will want to discuss is the priority of mobile versus desktop/laptop in your website design. If we can check out your Google Analytics prior to starting the website design, we will be able to tell if your site needs to be designed from a mobile-first perspective or not.
Website Design Process
We will conduct an initial design or discovery session where we will capture all of your input on UI/UX and functionality.
Our designer will create an initial website design of a home page and an interior page. We will share those with you as pictures (either jpegs or PDFs).
After several rounds of feedback we will arrive at a final website design which then goes into the development phase.
Website development is the process of taking the website design and building it as a functioning website. Our websites are developed on the WordPress platform using Foundation or Bootstrap as the underlying framework. We also build WordPress theme sites as required although our preferred option is a custom build based upon Foundation or Bootstrap. Check out a detailed list of our website development standards here.
Website Development Steps
We setup an instance of WordPress on our development server.
We take the final PSD files from our designer which you approved and we build them on our development server.
We share the development server credentials with you so you can review the "front end" (what the public sees) and "back end" (what the owner sees) of the website.
You review the website and provide feedback. We fix the feedback issues.
You tell us the site is ready to go live.
We move the site live for you on whatever hosting you are using. If you need hosting we can set that up for you as well.
Custom Website Development
WordPress is the leading CMS because it allows novice website owners to manage their websites without paying a developer for every little change or blog post. This simplicity is one of the main reasons why WordPress now powers about 25% of all of the websites on the internet today. About 60,000 new WordPress websites are built each day. We build our websites so that the WordPress back end retains all of its ease of use and outstanding functionality.
What doesn't Website Development include?
Website development doesn't include content – copy, images, etc. – that make up the meat of a website. For most of our website development projects, we leave the content creation up to our customers. If you would like us to include content creation that needs to be discussed at the beginning of the project before we provide you with a website quote.
Website development also doesn't include initial SEO (search engine optimization) setup. It is an additional service that we can provide but it is optional. You can always have us work on it later.
Fully Responsive Websites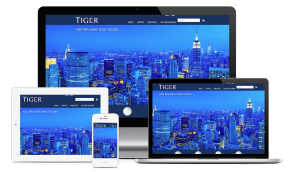 Mediumcube builds fully responsive websites. Our sites are based on the WordPress platform. We use Bootstrap or Foundation Framework as the starting point to build a custom WordPress theme for each site we develop.
Fully Responsive Websites are Mobile Friendly
Websites that are fully responsive automatically adapt to different screen sizes so they look great on all devices. This means you only need one website to service all channels. When combined with the WordPress platform, the end result is a powerful website which is easy to manage and has great SEO performance.
Check out our portfolio of fully responsive websites here. We're ready to get started on your project today!
---
Got questions about Fully Responsive Sites based upon the WordPress platform? Call Mediumcube today at 1-866-654-4266 for more information.