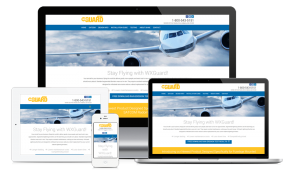 Back in the day, purchasing agents at manufacturing companies used to have the Thomas Register – an encyclopedia-like set of green books filled with manufacturers of every widget known to mankind. They also relied upon catalogs from sources like Grainger or Fastenal. Today those same purchasing agents rely upon Google and the other search engines to find what they need. Big companies like Grainger and Fastenal have entire teams of people dedicated to maximizing their online presence. If you're a small to mid-sized manufacturer, your website needs to be found by the search engines and it needs to convert visitors into leads and (ultimately) customers. Applying these manufacturing website design principles will help you reach your goals.
Manufacturing Website Design Principles
Manufacturing Website Design: Focus
Direct your visitor to look where you want them to look when they come to your website. Create a "zone" or "capsule" that grabs their focus and hits them with your call to action.
Manufacturing Website Design: Cues
Using directional cues like arrows to point towards your call to action to increase focus is a must. Drive their eyes to the most important part of the site – the conversion button or form. The rest of the content on the landing page can be thought of as fodder for the search engines. You want your visitors evaluating your Call To Action and making that decision to engage.
Manufacturing Website Design: Contrast and Whitespace
The use of contrasting colors that really "pop" on your call to action draws more attention to it, thereby increasing conversions. Surrounding your CTA with white space creates a buffer and makes your call to action "pop" that much more.
Manufacturing Website Design: Giveaways
Sometimes you have to give something to get something. If your business allows for free samples, that's not a bad idea. Discounts on the first order can work as well. A white paper or case study that explains how your product saved a customer money, improved a customer's process, etc. is also a great way to get conversions.
Think of it as "conversion bait". What are you going to dangle on the hook to get a customer to "bite" by giving you their email address or calling in.
Manufacturing Website Design: Trust
Adding testimonials and references are a great way to build trust. When researching new vendors, finding a partner that can be trusted is a big step in the process. Sure, your customer's purchase order terms and conditions establish all of the ground rules, but there's nothing like a couple of statements from satisfied customers to push the process along.
You might say, "References?" To which I reply, "Hell, yes!" Think of your website as your business' resume. You wouldn't hire someone without checking their references, right? Why should a new customer "hire" you without checking yours?
Manufacturing Website Design: Functionality
One important piece of functionality is allowing for file uploads in your conversion form. This is especially true if your business involves responding to RFQ's or looking at detailed specifications or drawings in order to provide a price.
---
Are you ready to design and build a new website for your manufacturing company? Berkshire Direct stands ready to serve. We've got experience with local manufacturers like Cordmaster, Shine Wire and WX Guard. Call Luke or Allen at 413-458-1721.