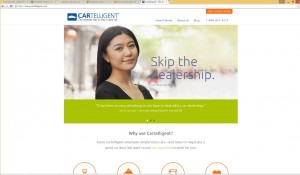 What's in a design, you ask? Website designers can and do deliver true impact on their client's business results.
Website Designers Drive 833% Traffic Increase
A San Francisco Bay Area graphic design company has been recognized with an exclusive industry award for the website they designed for www.cartelligent.com. According to the press release about the project:
"We wanted a new website to meet two main objectives — to better communicate the value of the Cartelligent service and to increase the number of site visitors that contacted us. Project6 was able to deliver on both of these. They helped us craft a beautifully presented message that clearly illustrates the benefits we offer to car buyers. Our website conversion percentage is up by 50% since we launched the new site," said Jessica Carstens, Marketing Manager at Cartelligent.
Those are amazing statistics to be sure. Your own site might not even need a full blown redesign. Maybe just a couple of design tweaks could make a huge difference. Get a professional opinion today!
---
What can a new website design do for your business? Put our website designers to work for you today! Call [allen] or [luke] at [phone] for more info.