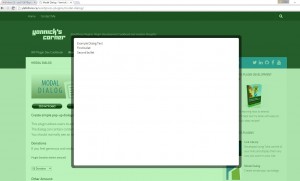 Do you want to capture email addresses on your WordPress website? How about social media engagements? A WordPress modal dialog window may be the best solution for you.
Adding a modal window is a popular project recently. Website owners want more aggressive means of capturing email addresses and social media engagements. There are several WordPress plugins available. These plugins make adding a modal dialog box to a WordPress website a straightforward effort.
WordPress Modal Dialog Window Plugins
Here are three of the plugins available from the WordPress Plugin Repository.
---
Want to add a WordPress modal dialog window to your website? Call [allen] or [luke] at [phone] today for more information or to request a quote.